Reseller Web Hosting
Als u een webdesigner bent, kunt u een resellerplan gebruiken om waarde toe te voegen voor uw bestaande en toekomstige klanten. Maar u kunt natuurlijk ook geld verdienen door uw eigen webhostingbedrijf te starten!
Geleverd inclusief GRATIS uptime-monitoring, onbeperkte SSL-certificaten van Let's Encrypt en nog veel meer!
Reken
Kracht

tot 2 krachtige CPU Cores per user account
Uptime
Monitoring
Ontvang notificaties in geval uw website niet bereikbaar is
Uptime
Garantie
we garanderen minimaal 99.9% netwerk uptime
Geld Terug
Garantie
Geldig voor 30 dagen, u kunt ons zonder risico uitproberen
Expert
Support
via ons ticket systeem, via e-mail, chat of per telefoon
Ijzersterke
Beveiliging

de beveiliging van uw data is onze top prioriteit
Inbegrepen bij al onze webhosting pakketten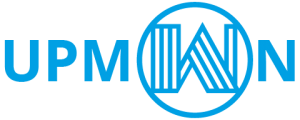 RELIABLE UPTIME MONITORING
Monitor your sites anytime… anywhere! Our inhouse developed monitoring solution UPMON is included with your Reseller Web hosting plan
Monitor sites and services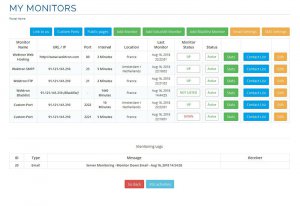 Get rid of your uptime worries! We watch your website, application or IP address. We reliably test the availability of services such as HTTP(s), ping, ports, keywords and blacklists.
Graphs and Weekly Reports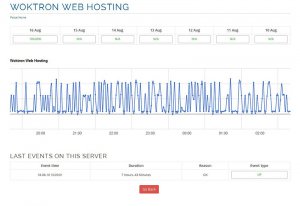 Knowledge is power, that's why we provide you the information you need about the uptime and performance of your websites and servers in easy-to-read reports and graphs.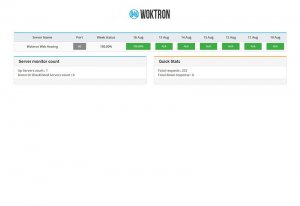 Share your website, network service availability and load times with your teammates and/or website visitors using our brandable public status pages.
E-Mail and SMS Notifications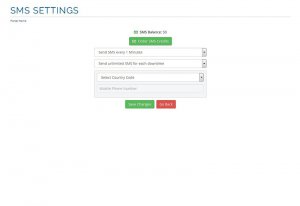 Be the first to know when your website or server is in trouble! You and any additional contact you setup can receive downtime notifications by e-mail and SMS.
FREE domain reseller account
By becoming a domain reseller you will have the option to sell domains to your clients without all the hassle and paperwork associated with maintaining a domain selling service.
Unlike other web hosting companies, opening a domain reseller account with us is included FREE with your reseller hosting plan! More than 100,000 domains are sold every day, thus making domain reselling a very lucrative opportunity. With over 100 TLDs and ccTLDs available, you will be sure to catch your client's eyes.
As a domain reseller you will also have access to a comprehensive control panel, a ready made and fully brand-able website for your clients to purchase domains from, and a powerful API that allows you to build a fully customized domain name registration experience for your clients. A ready made module for WHMCS is also available.
Your own reseller domain control panel! From here you have full control over your domains, clients and domain pricing. You can even have your own domain resellers.
Have your own customizable portal website from where you can sell your domains. You can also use the API or ready made WHMCS module to start selling right away!
How to start selling domains easily and quickly:
Request your domain reseller account from the client area
Customize your control panel and client site and setup your pricing
Setup billing & automation API access or use the WHMCS module (optional)
Load funds to register domains
Start registering domains, it's that easy!
Sitelock Lite is included for free and includes a malware scanner that works by scanning your website for any infections. You'll be notified immediately by E-Mail if malware is detected, meaning you can act promptly to keep your website safe.
Daily malware scanning
SiteLock trust Seal
SiteLock risk score
Scans up to 5 pages
Discounted WHMCS licenses
Optimize and automate your business with the WHMCS billing and automation platform. The easiest way to run a web hosting business
Automated account Provisioning & Management
Recurring Invoicing & Payment Capture
Ticketing System & Self Service Tools
Up to 250 clients
powered by branding link
Up to 250 clients
No branding link
Up to 1000 clients
No branding link
Unlimited clients
No branding link
WHMCS is available as an optional add-on when purchasing a Reseller or Enterprise web hosting plan
Heeft u nog meer ruimte nodig ?
Probeer dan nu onze razendsnelle Virtual Private Servers !
met nog veel meer applicaties beschikbaar via Softaculous !