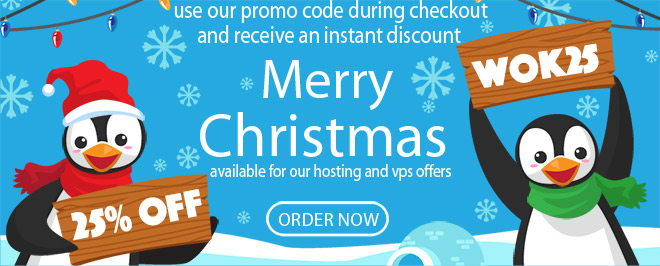 During the holiday season, our thoughts turn gratefully to those who have helped us shape our business
It is in this spirit that we say thank you and offer you our best wishes for the holidays and New Year
Christmas has come early !
To celebrate this holiday season we have made available a limited-time promotional discount of 25%.
This promotion applies to the following services:
To enjoy this promotion, please enter coupon code WOK25 during checkout. Your discount will be applied automatically.
Service Updates
The web hosting industry is rapidly evolving. To ensure that we continue to provide you with the best quality service possible we are pleased to announce that we have made a number of improvements to our services:
In the last three months we have silently upgraded both the disk space allotment and data traffic allotment for all Web Hosting, Reseller Hosting and Virtual Private Server accounts. All users are now able to enjoy additional disk space and data traffic for no additional cost !
All network switches in our datacenter locations have been upgraded.  As a result all web hosting accounts now have double the bandwidth available. With our second to none infrastructure, we continue to be among the best performing webhosts when it comes to speed and reliability.
Besides the normal RAID-10 harddrive configuration in use for data storage, all servers now also have SSDs installed to accommodate rapid caching of your dynamic content. Especially useful to users with heavy database requirements.
We have introduced our in-house developed uptime monitoring solution recently (more information below). The base package is available for FREE for all our clients.
Uptime Monitor
Get rid of your uptime worries for good. We periodically test your website, online application or IP address. We can perform checks of the availability of your service in a variety of ways such as HTTP(s), ping, port, keywords and blacklists.
We provide you with all the information you may require about the uptime and performance of your websites and servers in easy-to-read reports and graphs.
Your website availability and load times can be shared with your teammates and/or website visitors using our brandable public status pages and you can receive downtime alerts by e-mail or SMS based on length of downtime.
Reviews and Testimonials
A reviews section has just been introduced and can be found in our client panel. Post now a review of our services (good or bad!) and you will receive a 15% discount on your next invoice !
New in 2019: dashboard for Newsletter and Transactional E-Mails
Enterprise Hosting only: We are in the final stages of implementing an easy-to-use dashboard that helps with the management of newsletter and/or transactional e-mails.
This dashboard includes easy management of subscription lists, an E-Mail layout editor and an SMTP relay that allow for sending of messages using SendGrid or Amazon SES mail servers. Please note that all sent messages will have to comply with our Terms & Conditions and GDPR and other privacy regulations.
New in 2019: Cloud based security solutions
From the second quarter of 2019 Woktron will offer an in-house solution to manage your business identity, site security and privacy compliance audits for the GDPR, CCPA, and other global privacy regulations.
It is a complete, cloud-based website protection program, including a monitoring service that finds online threats, prevents future attacks, accelerates website performance and meets PCI compliance standards for businesses of all sizes.
Compliant organisations receive certification and a seal that can be displayed on your website. Basic certification is included as an option with our Enterprise Hosting offers but are also available to those that have a shared hosting subscription or have obtained hosting services elsewhere.