Your websites need to be protected from all types of bad people. From spammers to hackers, they all seem interested in your website. This is why our servers have security measures in place preventing, hopefully, any problem.
It is a nuisance however to find that your own IP address has been blocked because of these security measures. This can happen for example because you tried too many times to login using incorrect login credentials.
The normal procedure to resolve such issue is by raising a support ticket and request the IP address to be unblocked.
This is usually a quick and painless affair, but you still lose valuable time and productivity.
To address this problem we have developed a new feature that allows you to unblock your IP address yourself, without any intervention. There is no need to wait, you can just log into your client panel account and unblock the offending IP yourself in only a few clicks!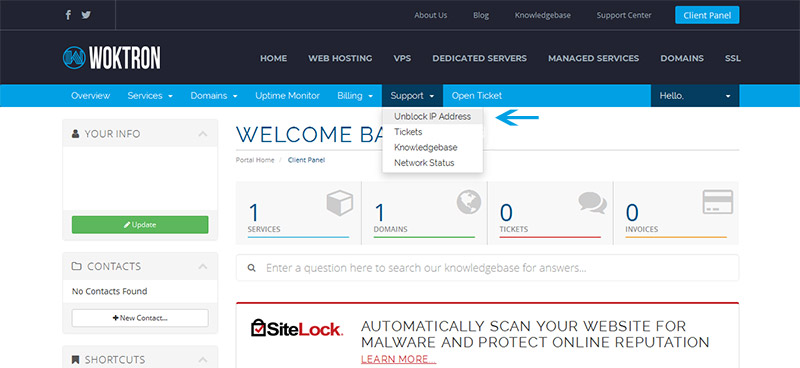 To unban yourself from your web hosting server, please do the following:
Head to the Woktron client panel and login
Click on the Support Menu Item
If you have an active service you will find in the support menu the link "IP Address Unblock". Click this link
On the following page you can unblock your IP address. Simply enter your IP address and press "Check for IP Block and Remove". For additional convenience the system attempts to resolve your current IP address, so there is no need to lookup your own current IP address either.
Our system will do a search on all the servers that you have an account with. If the IP address is found it is removed from the list.
You should now have full access to your websites and E-Mail again!
Ofcourse, feel free to open a support ticket instead, if you prefer!