Click here for a direct link to our domain management tools.
Your domain can be managed from the top menu "domains" link from your client panel account.

My Domains
The My Domains page offers an overview of the domains that you have registered with us. It also provides direct links to manage nameservers, edit your contact information, set the auto renewal status (enable / disable), manage your domain configuration, or to renew your domain.

Manage Domain
When clicking on the "Manage Domain" button the following page appears. We will explain each option as it appears on the left sidebar of the screenshot below: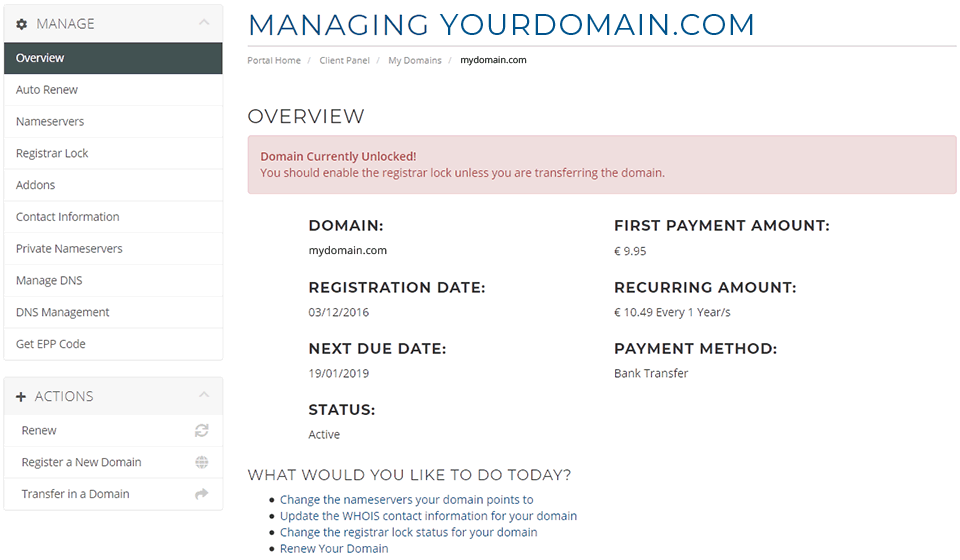 Enable / Disable Auto-Renew
The Auto Renewal feature for domains allows your domain to automatically be renewed before its expiration date. Domain Auto Renewal is available for all domain names registered with Woktron.
You can enable this feature using the "Auto Renew" switch under the "My Domains > Manage" section in our client panel. If you're logging into your Master Account, you will need to click on the domain name first before you can see this option.
Remember, your domain name can only be renewed if the renewal payment is successfully processed. So to ensure that your renewal is successful, please make sure you have valid payment information ready on file. You can update your account payment details using the "Change Credit Card Info" link in the "Account Details" section of our client panel.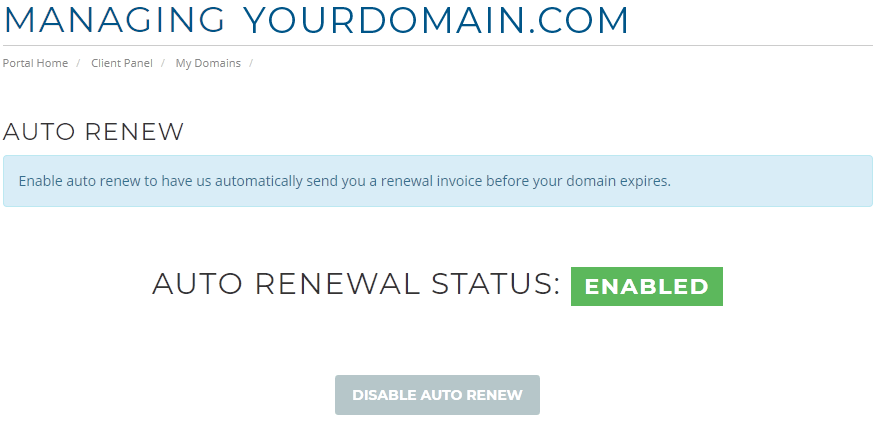 Nameserver Configuration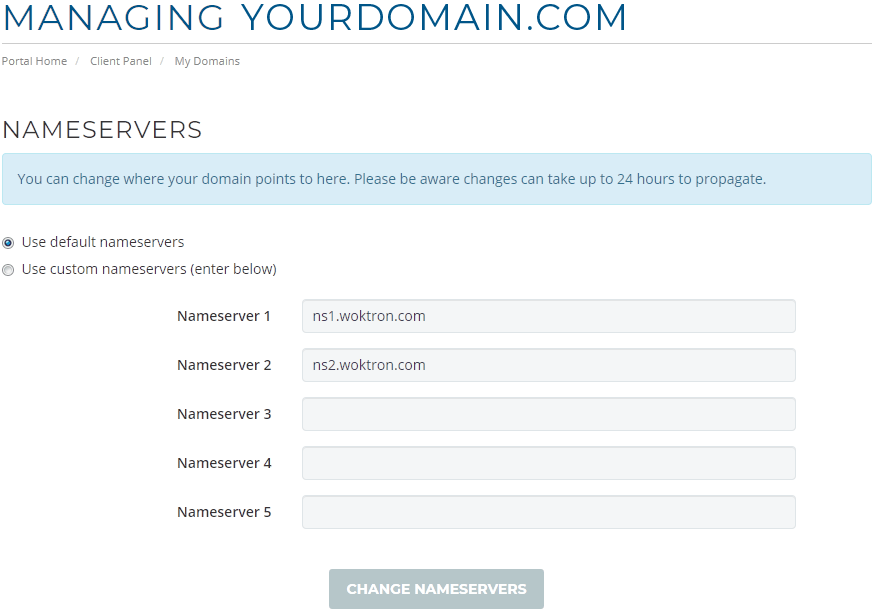 Registrar Lock
Registrar Lock is a safety feature that prevents unauthorized domain transfers. By default, this feature is enabled for all supported domains.
If you are transferring your domains to Woktron, you may find instructions on how to release Registrar Lock with your current registrar in this article.
If you wish to transfer your domain from Woktron to another registrar, please see this article for instructions on how to release the Registrar Lock on your domain. This must be done before placing a transfer request with a new registrar.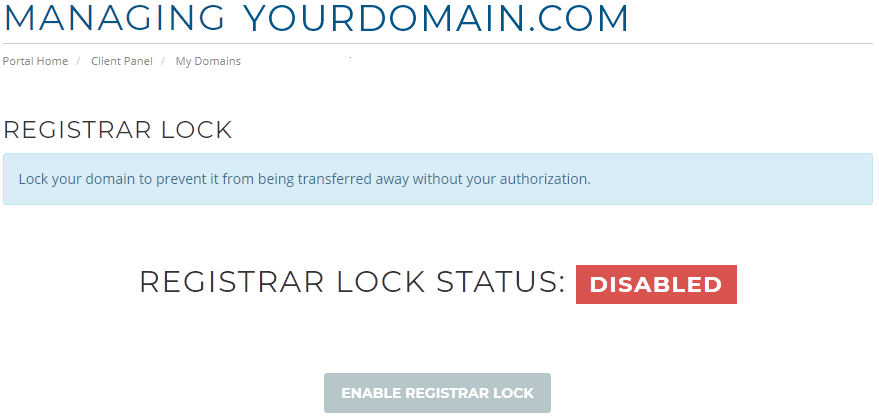 Domain Addons
Domain Contact Information
Your domain contact details are not the same as your account contact details. Billing contact details may be modified on this page.
You can update your domain's Whois contact information for Registrant, Administrative and Technical by logging into your Woktron client panel account. Once logged in go to "My Domains > Manage", then on the left-hand side click "Contact Information". Enter the new contact information then "Update Contact" or "Create Contact".
How does the Contact Verification process work?
A change to the Registered Name Holder of a domain name is defined as any change to the first name, last name, or email address of the registrant contact. A change to the Registered Name Holder of a domain name will trigger the contact verification process whereby an email containing a verification link will be sent to the registrant email address. The link in the email must be clicked by the recipient of the email in order to complete the verification process.
What if the Contact Verification process is not successfully completed?
Failure to complete the verification process within 15 days may result in the suspension of the registered domain(s) or those domains that were updated as a result of a contact change.
Why was my domain suspended?
A Registered Name Holder's willful provision of inaccurate or unreliable information, its willful failure to update information provided to Registrar within seven (7) days of any change, or its failure to respond for over fifteen (15) days to inquiries by Registrar concerning the accuracy of contact details associated with the Registered Name Holder's registration shall constitute a material breach of the Registered Name Holder-registrar contract and be a basis for suspension and/or cancellation of the Registered Name registration.
How can I get my domain unsuspended?
The suspension of the domain will be removed after the WHOIS information is successfully verified. Please update the WHOIS information with complete and accurate contact details through your domain service provider.
Who is ICANN?
ICANN is responsible for the coordination of the global Internet's systems of unique identifiers and, in particular, ensuring its stable and secure operation. ICANN maintains policies and specifications for registrars and registrants to abide by.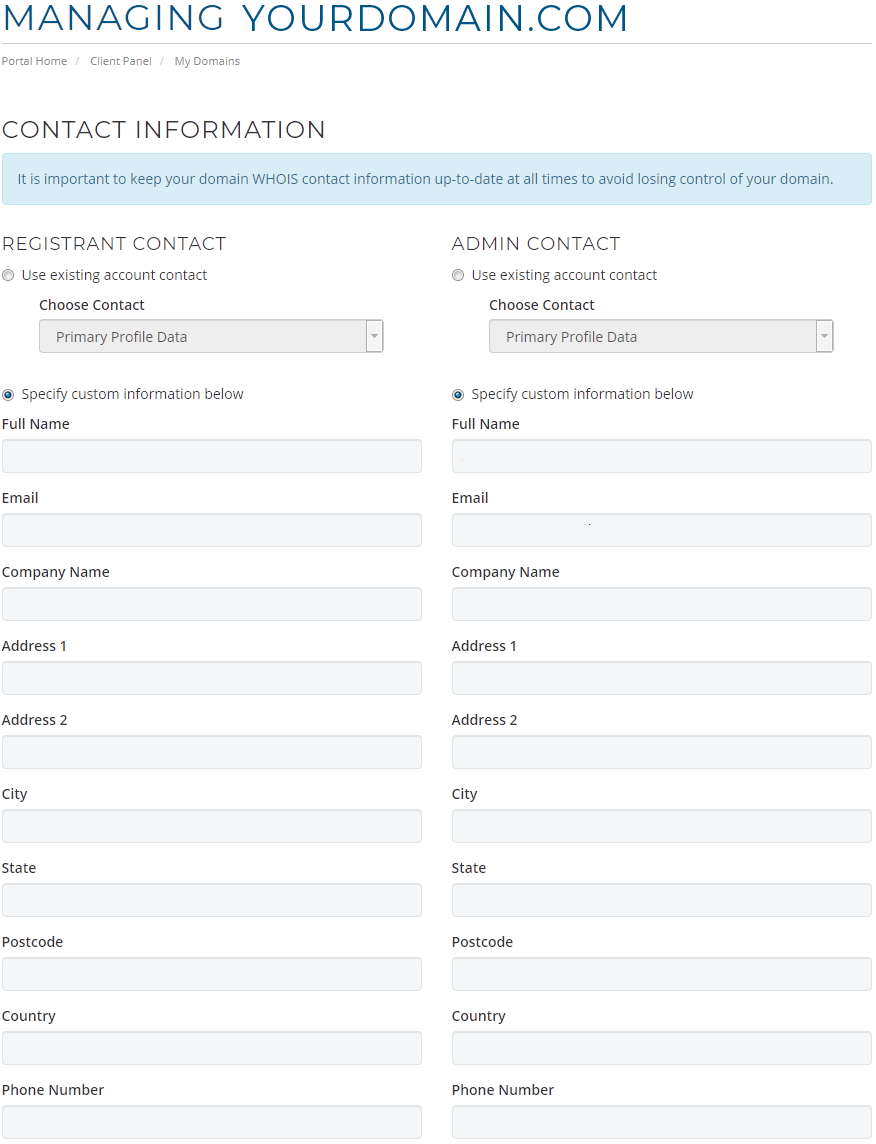 Configuration of Private Nameservers
Private name servers are DNS name servers that are associated with a particular domain name, as opposed to being associated with those of Woktron Web Hosting. Private nameservers use your domain – such as ns1.yourdomainname.com and ns2.yourdomainname.com – instead of the name of your web hosting company (nsx.woktron.com).
The most common situation where private nameservers are used is by resellers who are trying to establish their own brand. Private nameservers not only look professional, they make the process of transferring between servers much easier. In the case of a transfer, you as the reseller, will not need to contact each of your clients – they will begin propagating to the new server as soon as you update your nameserver IP addresses.
How Do I Set Up Private Name Servers?
Register your name servers at your registrar. If you registered your domain via Woktron Web Hosting you can click on the Private Nameserver link in the sidebar to reveal the page that allows for the creation and deletion of private nameservers.
Make sure an A record exists for your registered private name servers. More information about the creation of A records can be found in our "DNS Management" article.
Make sure your SOA and NS records are correct (DNS glue).
Important:
Ensure that all three steps are completed correctly, otherwise some people will not be able to visit your sites.
---
For example, if the DNS glue is not set correctly, some people will be able to visit your domain while others will not be able to reach it. In some cases, you may not need to do anything for step 2 and 3, but you should still check to make sure it is set up correctly.
Keep in mind that setting up private name servers is not the same as changing name servers to point to a different hosting provider. You will not be able to switch the name servers on any of your domain names to your private name servers until the private name servers are created at your domain registrar. Domains registered via Woktron can setup private nameservers by clicking on the "private nameservers" link in the left sidebar.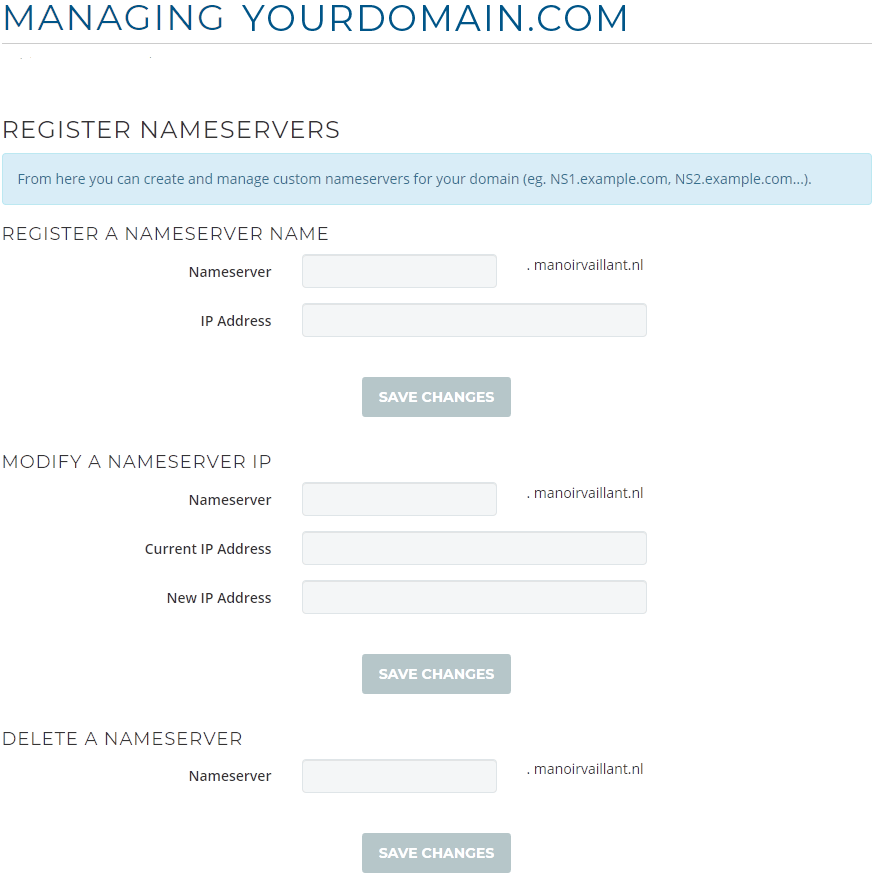 Manage DNS
DNS management is explained in greater detail in this article.
Get EPP Code
An EPP code also known as Domain Transfer code or Domain authorization code is a randomly generated code by a domain registrar which is composed of numbers, letters and special characters. It is required to transfer a domain from one registrar to another.
Before you request your EPP code, check your WHOIS information.
The registration and management of domains is governed by an organisation called ICANN (Internet Corporation for Assigned Names and Numbers). All domain registrars must adhere to a set of rules that guide the domain transfer process.
The rules state that the EPP code may be sent only to the email address listed in the publicly-available WHOIS record for that domain.
Before you request your EPP code, be sure to check and, if necessary, update the WHOIS information associated with your domain.

IMPORTANT
---
Changes to nameservers and DNS settings can take 24 hours to complete, due to the global nature of top level DNS servers, which are the servers translating domain names to IP addresses.